Klaus once said about himself and his work:
"In the eyes of our ancestors, certain qualities of life are not divisible, for example: happiness, trust, life-success, authenticity, clarity, joy, connectedness, life-purpose and meaning.
All this should always cover one's entire person and life. Only against this background, my work as coach and consultant and my being with horses can be fully recognised.
Since decades I work as life-coach and management-consultant also and beneficially against my broad background of authentic experience with horses and their true nature.

But I'm not a horseman, not a rider in the common sense, though I first became known concerning my special being with and teaching about horses, based on inner strength, body-language, immediate bonding and 100% non-violence.

Basically, the questions of authentic human culture have driven me during my life and finally, historically and energetically motivated, also to the horses. And the peaceful and highly sensitive contact with horses then only brought me ever closer to the fundamental questions of human beings and their way of life.
In my daily practice, sometimes the emphasis is more on the teaching of being authentically with horses and sometimes more or exclusively on the general understanding of how to live as a grounded and adult person, who clearly has his genuine purpose and life-goal in mind - concerning personal, societal or business issues." KFH
"A problem is never the problem…":

 Fundamentals of personal and professional foresight, general safety and one's individual and authentic purpose of life.
"For me, as a professional 'trouble shooter' this aspect is particularly important: 

The problem itself is never the real problem, no matter how insurmountable it seems. Only the immature, inappropriate handling concerning the challenge then creates the problem.



In turn this indicates, that every problem can be solved by mature, grounded, clear and appropriate contemplation, preparation and action.


And as an encore: every solved problem is a great step on the way to life-wisdom and therefore serves to stabilize the foundations of one's life-path."

"There is something superior to all fate and external influence:

 the inner strength, steadfastness and perseverance of a conscious, mature character." KFH
"One of my basic coaching-themes deals with the question of authentic accountability, of foresight in many aspects and one's own sense of maturity in all kind of actions.
One basic ancient idea of being with horses is, to lead people explicitly to their adult responsibility and self-awareness. Little, or even not known is, that it has been clearly differentiated for our ancestors, whether the in general important path is taken by a woman or a man.
With my work I also try to shed light on this important aspect.

Living in a world, that is seemingly becoming more and more inauthentic and altogether more trivial-infantile and with this unpredictable, this aspect appears to me as an elementary focus for every single one." KFH
Recently published:


Overview of the 8 most important
and characteristic features regarding the horse work of KFH,
his unique foundation from the beginning, with a mutual influence concerning 

his

 

being as life-coach and management-consultant:
1. 100% Non-violence in all cases and under all circumstances - possible because of the horse's immediate acceptance of the horse-person.
2. Immediate recognition of the horse, its individual essence, its possibilities, limitations and its way to an optimal, well-being and expression.
3. Problem-diagnosis and solving during the first encounter, even concerning severe difficulties.
4. Immediate connection with the horse - trusting harmony from the beginning  through body-language and inner strength - the human being as role model.
5. The shaping and collection of the free horse towards an upright, healthy and self-supporting posture through body-language and positioning.
6. Collected riding on a loose rein through KFH Signal-Weight-Riding and prior thorough preparation of the free and collected horse from the ground.
7. Extending human consciousness and expression through the authentic immersion into the world of the horse, 

their

 primal nature and their language.
8. To grasp and rediscover the human-horse  relationship as a genuine  opportunity of personal development. 

A forgotten cultural heritage of humanity.
To whom does Klaus focus
as teacher and author?
Beginners and newcomers are absolutely welcome.

Klaus picks you up where you are right now,

and he accompanies you as far as you like.

Nothing is required. It is about the next steps.

It is first about the general direction, which incorporates already the goal.
At first Klaus is open for whatever kind of questions a client might have, regarding general coaching and teaching, horses or life itself. Followers of different riding styles, also beginners and newcomers are absolutely welcome.
In his being as a professional consultant, Klaus sees himself as a sort of a calm lake, into which one throws a stone (questions, life-aims, individual teachings etc.). Without judging, he conveys the waves, that this stone provokes, in all conceivable patience.
Of course, Klaus lives in front of an authentic, nature-connected background. And of course, some life-perceptions are closer than others. So here are some answers concerning the question: Who might be in particular be  attracted to Klaus's point of view concerning holistic life-success with or without horses?
Those who seek the authentic, inwardly fulfilling experience.
Those who want to be motivated in the realization of their dreams and in turning to the spirited in themselves and in their horse as partner, medium and mirror – committed to their own destiny and all their possibilities.
Those who seek the real, not the illusions.
Those who seek genuine, self-sustaining self-consciousness creating collection of their horse, performed voluntarily by the free horse which is worked consequently from behind in unhindered, playful, highly motivated movement.
Those who seek a grandeur, which truly gives joy and satisfaction, to both human and horse.
Those who seek in themselves and in their life the detachment from a  paralyzing, gray routine, towards the connected experience in the here and now. Who are aware that everyone lives only once, in comprehensive, individual responsibility.
Those who seek the permanent development, for human and horse
and the genuine form and that expression which is shaped by content, and not just the superficial facade.


Those who seek a genuine and deep bond to the horse and thus to their own being through the development of their own personality, through inner strength and through body language. Through knowledge of the horse's nature. Through enhancement of the horse in its being and in its physical expression and not through humiliation.
Through the voluntariness of the horse – always.
Through nonviolence – always.
And whoever is looking for the authentic path, being already the goal in itself, without losing their sight of the goal, is already close to the content and aims that Klaus is transmitting as teacher and author and which have made him what he is today: unique, not only inside of the horse scene.
The important themes of

Klaus Ferdinand Hempfling:
The royal path to the horse in freedom as a proved and verified holistic way of personal, authentic development towards a comprehensive success including personal life issues.
The free, highly motivated, powerful horse in the most
 beautiful attitude and uprightness, connected in deepest confidence and
with the greatest
acceptance.
Collection at liberty, highest respect and harmony in an always peaceful partnership.
The understanding

of body and spirit, of perceptions and expressions, of communication and authentic self-understanding, of reason, wisdom, and destiny, of symbol and reality as an ever-connected supportive and complementary unity.



Since decades, Klaus is influencing and inspiring 

not only the horse scene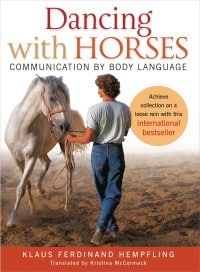 Since his first bestseller "Dancing with Horses", which literally overnight made Klaus a star inside of the horse-scene, the author established himself around the world through various unique characteristics of his being with horses. 
In his work, Klaus combines the image of the classically shaped high school horse with the unique
 experience for horse and human, to achieve all this authentically by meeting and acting unrestrained and to bind this way closely together, developing in the softest way an always peaceful, harmonious dance in the most wonderful posture of elevation, uprightness, and expression.
From the very beginning, Klaus has been connecting his being with horses with the oldest,
today practically unknown traditions, which are recognising the horse as a center of human development towards authenticity, inner strength, a congruent personality and comprehensive personal success. This became a crucial anchor point for Klaus for his creation of a worldwide unique being with horses.
---
You may learn…
… directly from the Master of bonding and collecting of the free horse, why the horse was so important for our forefathers also as a 'signpost' towards a mindful and authentic life.
You may learn from the Master of horse-understanding, how also you may understand your horse better and better. Learn how to encourage, guide and form you horse in the most beautiful harmony with the ever-peaceful means of your mature personality through inner strength.
You may learn from a worldwide successful coach, life- and management-consultant, how a common thread draws through the history of mankind, connecting the primordial meaning of the real and symbolic horse with the possibilities of each human being, to use their given individual talents and potentials holistically in terms of authentic fulfilment of life and integral success.
You may learn from the Master of body language and  communication, mirrored by the powerful, positive expression of innumerable horses often after 
minutes and seconds, how also our own existence can change to the better as we re-establish our own standpoint in life, ground ourselves and find confidence anew in our own destiny.
You may learn from the Master of instant healing, how to deal with, recognize and avoid the partly great dangers for body and soul as well as the many pitfalls, which are inherent to the unconscious handling of horses.
You may experience

 first-hand, why our forefathers regarded the authentic connection to a horse, his powerful shaping and sensitive controllability in freedom as an indicator and guide of integral life style, way of life, life-quality, happiness and success; yes, as training of meaningful and fulfilled life in general.

Some core statements of the teaching

of Klaus Ferdinand Hempfling:
Personal development in the most elaborate form and the brilliant, powerful expression of the free horse, free and yet manageable and safe, are
furthermore
mutually dependent,
according to Klaus.
Only the free development of the personality as an impulse will make the free horse safe and
controllable on one side and at the same time shapeable in its deepest bond.
In this way, an interaction is
created, which then enables the human being to carry the power thus way gained, his own inner free expression and the play of inner dreams into the world as such, into his own life, experience and holistic success.
The horse becomes the medium of expression for superior personal inner development and in the end for the comprehensive, personal success in life, which always comprises many, if not all areas of existence.
This leads to authentic leadership and to the highest physical and mental presence. All this expresses itself in dealing with horses, as Klaus represents it in a unique way in the sense of the interaction of holistic success through the expression and being of the horse and the degree of the constant inner personal development of the person.
It becomes clear to an ever-growing public around the world, that a complete new path, a whole new approach has been found and meanwhile has been tested over decades and proven again and again anew by dozens of horses. Yes, witnesses say, here the royal path to the horses was found and simultaneously transferred to daily life-practice and general holistic success.
Klaus Ferdinand Hempfling and his unique path to the horses:
Klaus succeeds often in minutes or even only in seconds to connect also with horses, wich are described as  very problematic.
This bond holds with mares, geldings or stallions also in the unfenced, completely free nature. And here something very special happens. Now Klaus combines
various characteristics of horses in a way, which seems to be impossible. In liberty, in a sort of a free play with the horse, he is accompanying and
leading the animal into the most beautiful collection and uprightness – into a form, expression and presence, which then becomes a fixed
feature of the horses permanent reality. The horse experiences itself in the connection with this man, like in an entire herd in natural
freedom, being furthered in his entire personality and in his physical posture, his expression, his whole form of existence.
Please see: