GET INSPIRED BY CLIENT SUCCESS STORIES:


REAL-LIFE EXPERIENCES OF INDIVIDUALS

FROM AROUND THE WORLD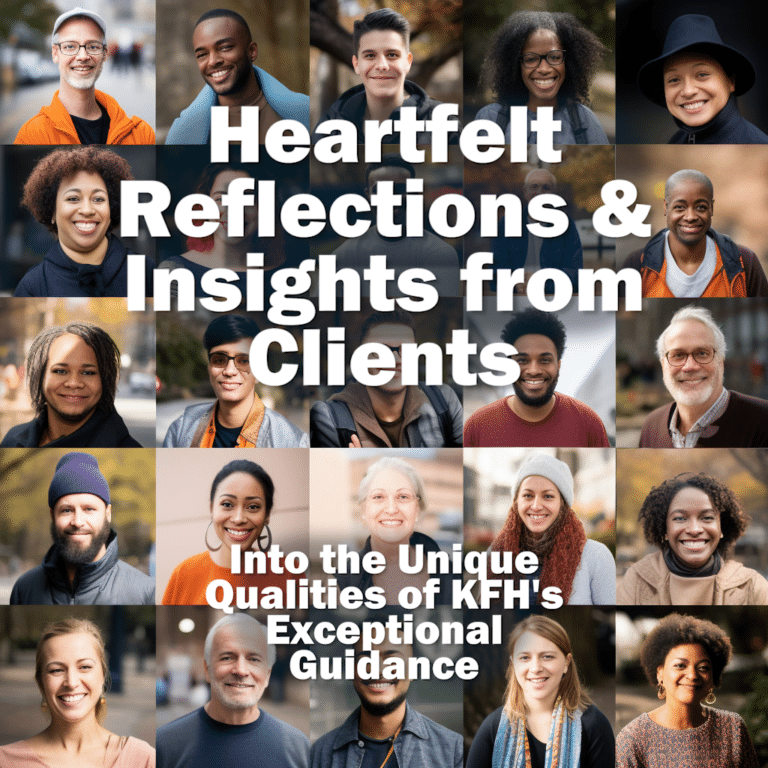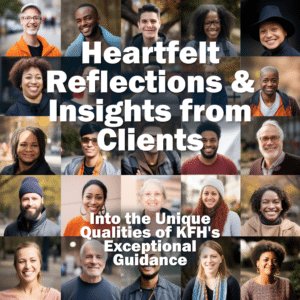 Klaus Ferdinand Hempfling's work is known for its transformative power, authenticity, and profound impact on people's lives.
Over the years, we have received countless testimonials and feedback from clients all around the world, attesting to the unique qualities that set Klaus apart as a coach and mentor.
The individuals you will read about on this page are just few of many who have been touched by Klaus's wisdom and guidance.
They were recently randomly selected and asked if they would like to share their thoughts and experiences with us concerning the question what they think is important for others to know about KFH and what sets him apart in their eyes. They have generously shared their thoughts and experiences with us, offering a glimpse into the profound changes and insights that Klaus's coaching has brought into their lives.
THEIR TESTIMONIALS ARE ALL PRESENTED BELOW

IN THEIR ORIGINAL, UNEDITED FORM,
allowing you to gain a true understanding of the impact Klaus has had on their personal and professional journeys. We hope that these real-life stories will inspire you and that they shed light on the exceptional qualities that make Klaus's coaching and consulting truly unique.
---
What our clients think is important for others
To know about KFH


Find here 20+ individual testimonials:


It is an honor and I am happy to contribute a small piece to bringing Klaus' extraordinary work and expertise closer to others.
If I were to say what makes his coaching and consulting unique, there are many things I can name, but to someone who doesn't know Klaus, I would say that Klaus' work is like a lighthouse in uncertain times.

In times when so much is sold to us as truth,
which then falls apart again in a very short time, he stands and helps you change your life and make decisions in such a way that they sustainably and fundamentally improve your life. When making important decisions, you need someone who doesn't just give their opinion but on whom you can rely 100% because he speaks the truth based on ancient laws of life and advises me so that I can set my course right.

I am grateful to be able to consult with him for his expertise, wisdom and experience. This feeling of security in uncertain times is a great gift.
N. A. – Germany
---


In my experience of learning from Klaus over the past 17 years (in many seminars, in-person coaching, as well as on many telephone calls), Klaus is the most truthful and effective person. I cannot emphasize this enough. It seems to be all he knows for moving through this complex world. He is truthful in a kind and wise way, always seeking the best for the person he is speaking with and for the 'whole picture' as well. His words are often seemingly simple yet completely unique, with powerful insights that are so much different than popular so-called wisdom.

His focus is holistically global, somehow d

rawing

 on all of the threads for the best next step forward, pointing to a path of incredible results where it seemed that there was no way forward. Often, his words from years ago will rise to the surface at the exact time they are needed. He is fully unique, with powerful, joyful living and advice in all arenas, setting him apart from all others. There is simply no comparison. I have searched worldwide and found him to be the only one available at this high level of excellence.
G. E. – USA
---


I have been searching all over the world for 'horse trainers' since my beginning with horses in 1994/1995 and I can honestly say that I have found nobody up until today who does anything even slightly similar to what Klaus Ferdinand Hempfling does.
And not only with horses, even though I think that is the area where it shows the most. It is fair to say that KFH is the one person in the world who has influenced me the most, in almost every aspect of my life. I have been following Klaus closely since 1999, participating in numerous courses, events, schoolings, and demonstrations over the years, and he never ceases to amaze me with how precisely he addresses the problem, how easily he finds the solution, and how difficult it is for all of us others to do the same. I consider myself very lucky to have had the opportunity to learn so much from him, and it is safe to say my life would have been very different and probably poorer and less colorful without his influence. I am forever grateful.
H. A. – Norway
---


The collaboration with Klaus is of the utmost value to me. Regardless of the situation and the topic I bring to him, I can rely on him completely to help me extremely effectively, efficiently, and precisely according to my real and current situation. Perfectly tailored to me, he can show alternatives and solutions where I only see problems. He can help me analyze difficult life situations in a short time and shed new light on them, making me feel strong and knowing which steps I want to take next to successfully handle situations. In the end, everything appears clear and simple to me, and I can experience even difficult times with a certain ease, inner peace, and strength. It's a special feeling that I wouldn't want to miss anymore.

I find the combination with bodywork particularly valuable.
The exercises are designed in such a way that they allow everyone to start exactly where their body is. They are incredibly gentle and at the same time highly effective. I notice time and time again that the awareness and alignment of my body have a very positive impact on my inner alignment and my interactions with other people.



I am sincerely grateful to Klaus for his work!
J. E. – Germany
---


Working with Klaus has changed my life more than any of the other work and coaching that I have done.
Klaus blends both physical tools such as proper eating and movement protocols that are best for you and elemental and spiritual coaching to get you on your destiny path. Klaus sees our true nature and destiny and what is in the way of us living that. It is very personal and unique and I carry what I learned with him with me. I hope to do much more!
C. O. – USA
---


It is an honor to be asked about my very personal insights. Thank you very much. 

I have known Klaus for over 20 years, and I have witnessed how he can read a horse within seconds, recognize behavioral problems, and resolve them in a benevolent manner.
The horse blossoms on its own, visibly displaying all its beauty and dignity. This happens without exception in all encounters and has given me the confidence to turn to Klaus as a coach and advisor when facing personal challenges. As a coach and consultant, Klaus transfers this, in my opinion, unparalleled ability to meet the needs of his clients. He makes you aware of the underlying problem, encourages and challenges you in your own way, and opens the door to a solution. The decision to step through this door can be challenging, but in my case, it has always proven to be the right one.
J. U. – Germany
---


I have been working in the wellness- and body awareness sector for almost 38 years,
completed various training programs, but the positive effects of different movement systems mostly remained elusive. Some things only helped briefly, some didn't help at all, or even made things worse. I experienced chronic pain and was completely burnt out. For decades, I searched for alternative movement systems and solutions for the pain, consulting physiotherapists, doctors, and more, but without success. In retrospect, the therapies and movement systems were superficial; they didn't address the root of the problem. Therefore, I suspect that any improvements were not long-lasting.

It wasn't until I completed the training with Klaus Ferdinand Hempfling as a Body Awareness-Trainer that the long-awaited successes started to manifest.
And not just temporarily, but permanently and sustainably. Over the past decade, my expectations of what can be achieved with the right exercises have been exceeded.

The same goes for dietary changes.
I had tried many things, but it was only when I changed my diet according to what I learned from Klaus that I felt like I had enough energy for the first time in my life to perform daily tasks significantly better.

Immediate success leads to a sense of orientation and the end of the constant search.
It's reassuring to have areas in life where one has found their way. This doesn't mean that there is no further development in these areas, but the sense of helplessness is gone, which is immensely comforting.

In retrospect, Klaus's coaching hit the core, the root, the seed, allowing truly sustainable successes to occur.
And this applied to every aspect of life, whether it was health, well-being, animals, children, or finding the right exercises. Solutions are organically presented in a way that enables one to increasingly help themselves. What I learned intuitively integrates into life.

Everything I learned from Klaus is always intertwined with life, everyday activities.
For instance, I learn physical exercises and over time, it becomes apparent that everything I learned can be integrated into life and daily routines. For example, physical exercises merge with everyday life. It's all-encompassing; the exercises consciously (mind) combine with proper movements (body), leading to an increase in well-being (soul). Every exercise I learned promotes the body's alignment, relaxation, awareness, rolling gait, and deep breathing. All of this is increasingly merging automatically with life.

The coaching hits the nail on the head - it's precise and focused -
it's often quite different from what I expected beforehand, often the complete opposite of what I had learned previously. In hindsight, this makes sense because if the result wasn't successful, if the current state isn't good, then what I add or change in my life should be different from what I did before. Klaus helps to stay true to oneself and, in an organic way, teaches self-responsibility, to engage with my body and life. For me, it's not consumption; it's genuine learning. It's not rote memorization; it's straightforward and uncomplicated understanding. It's not isolating one part from the whole (which I often experienced in other training programs and found very superficial); Klaus provides the right information that is needed in that moment, so I can easily connect it with my life.
K. L. – Germany
---


I am deeply honored to respond to your request for feedback, allowing me the opportunity to express my profound gratitude for the transformative experience of being a client of KFH.
Reflecting on this connection, I would attempt to convey the essence of what makes KFH a truly exceptional and unparalleled consultant.

If I try to describe the uniqueness of KFH in a single sentence,
I find myself saying, "He embodies a rare blend of wisdom, strength, humility, and character that I would have never believed existed if I hadn't met him." Over the years, I have sought his counsel on diverse aspects of my life – be it career, family, personal relationships, or professional crises – and each time, I have been met with advice that I know, with absolute certainty, will lead to a successful, most favorable resolution.

What sets being KFH's client apart, in my experience,
is the profound sense of calmness and security I feel knowing that I can turn to him, regardless of the complexity of my problem. His guidance has instilled in me unwavering trust. Regardless of how unconventional his advice may initially seem, I follow it not out of blind obedience or lack of my own opinion, but out of a deep understanding that his counsel is the wisest course of action. Each time I have followed his guidance, I have been astounded by the positive outcomes – a testament to his undisputable success as a consultant.

Being a client of Klaus is synonymous with having a clear, guided path to success and personal growth.
In a world where trial and error often dictate our actions in critical situations, KFH provides for me a beacon of certainty. His insights have illuminated my path, be it in family matters, work challenges, or health issues. Often, a mere three-minute call has sufficed to guide me toward the right next step, leaving me amazed at his unparalleled wisdom and certainty.

It is challenging to convey the depth of this experience adequately;
one must encounter KFH's coaching firsthand to truly comprehend it. In a world where such certainty and clarity are deemed improbable if not impossible, KFH's approach and results stand as a testament to the extraordinary. It is an experience that defies the norms yet resonates profoundly with reality.



With my deepest gratitude,
N. I. – Israel
---


Dear Klaus,
First of all, I thank you for the request to share my thoughts with you about what I would like others to know about you and what sets you apart in my eyes. I am very honored for that.



These are my perceptions of you:





You encourage people to do things that other coaches or educators don't do. For example, you tell people to be successful on as broad a level as possible. You celebrate people's individuality and authenticity. You promote joyfulness.





You do this through spoken and written words and by setting an example. For example, the cover of your first book, your behavior, the picture on Facebook (May 17th, 2023) with the wooden art drawing. These kinds of things, nobody else does.





The fact that you are not dressed in a suit and tie, that you use art pictures and non-sophisticated images, makes you a more approachable person. You are very professional and at the same time very individual and authentic.





I perceive you as a person who is coming out to the world with enough information about yourself. I don't need to know more about you.





With best regards,
E. V. – Belgium
---


Thank you very much for your email and sincere thanks to Klaus for asking me.



I feel very honored about that and therefore I started to work immediately and conscientious at a short and concise answer to your simple question.

As I know very well, what a tremendous luck it is and as I am incredible grateful to know Klaus by my side, I marvel, how challenging it is, to find a clear and simple answer, which brings the topic to the point.

Twenty-nine years ago, to my great fortune, I met Klaus Ferdinand Hempfling at a one-week seminar he offered.
What I was fortunate to experience there was so completely different from anything I had ever experienced before, a singular sensation for me. That it exists! Such an experience! That life can actually be like this! That there is someone who truly lives this way!
My own state back then was sad: I was plagued by fears and self-doubt, I was fickle and only partially reliable. Deep-seated resentment led a secret life within me, and over it all lay a paralyzing blanket of depression, occasionally punctuated by destructive outbursts of anger. I was full of hatred for various circumstances, and my immense longing for life did not lead to healthy and viable paths but regularly led me astray, to hubris, exhaustion, and often to rather embarrassing situations.

With Klaus, you feel completely accepted, no matter how bad things may be, you are not judged by Klaus.
Everything, even the darkest aspects, can transform into something positive. Once you have experienced this, you realize how rare it is and how beautiful.

Over time, contact with this man has changed me, changed me for the better. Today, almost 30 years later, I can look back with amazement. Coming from a family where generations had been marked by strife and inner chaos, I can now describe myself as a happy adult, largely reconciled with my past. I am amazed daily at who I have become, experiencing the joy of successful relationships (even with that family!) and increasingly enjoying just being myself.

As I write these lines, the Nobel Peace Prize is being announced on the radio. I think to myself, Klaus should be nominated. Here lies, as yet unrecognized by the world, tremendous problem-solving potential, even for the most complex questions! Someone who has dedicated his life to exploring what has gone wrong in our modern world and when it began has not only found profoundly impactful answers but can make these peace-promoting answers applicable to anyone who truly desires it, here and now.

What transforms a person like that?
Of course, the conversations with Klaus and the unique experiences that inevitably follow when you follow his advice. But I believe it is this living example that has had an enormous impact. From my perspective, Klaus sets entirely new standards and has planted the desire in my heart to be like him: as authentic, as true, and as uncompromisingly straightforward as Klaus; as reliable, as service-oriented, and as unwaveringly loyal as Klaus; as polite, as meticulous, and as utterly discreet as Klaus; as modest, as tactful, and as remarkably humble as Klaus, yes, simply as incredibly virtuous as Klaus, because this list of inner qualities is by no means exhaustive!

Out of this desire, I helplessly imitated pretty much everything I saw in Klaus, initially mostly externally:
I dangled ropes around horses, eagerly repeated everything Klaus said, and soon had to recognize that what I lacked most was what, from my perspective, made Klaus an outstanding king: this deep, precise, and comprehensive recognition of what is essential – whether it be an animal, a person, or the entire complex situation.

His instinctive and immediate grasp of the situation in all its internal and external aspects
is what, in my view, enables him, in conjunction with his completely incorruptible character, to quickly and unfailingly choose what is good and act accordingly. (As I write this down, I wonder if these are even two different things or if it is precisely these consistently developed character traits that ultimately enable such clear understanding?).
His YouTube videos, for example, impressively demonstrate the concrete wonders of such inner rectitude in relation to horses. I am happy to attest that his consultations yield similarly astonishing results.

At this exact point where Klaus hits the bullseye,
so to speak (you can feel that!), it is so enriching to speak with him. On the one hand, he enables me to take an unobstructed look at the whole thing myself (which had been obscured from me by one illusion or another), and on the other hand, he always knows in unusual clarity, with great precision and applicability, the next small step, which may seem banal for the moment but – and this is the big thing – always leads to the safe side of destiny. Where else can you find such guaranteed security? Even from silly accidents, you are safe here, because a consultation with Klaus generates some astonishing coincidences, but only those that are perfectly suited and highly beneficial to the process. I have been fortunate to experience this over and over again!

Without ultimately understanding exactly how this happens: When you have contact with Klaus, it leads to a sort of short-circuit with life – in a positive way, difficult to describe.


It might sound somewhat poetic, abstract, and elusive, I know, but how can I express this miracle?




Furthermore – and I say this today, after almost 30 years of loyal and unwavering companionship with Klaus – all those seemingly small steps have led me to my own inner experience, which already feels so much better than anything I have known or even dreamt of. Where will the journey lead next? Knowing that I can fully rely on my traveling companion, I look to the future with calm and confidence!



What can I say: Thank you, Klaus! Thank you for being there;
thank you for remaining true to yourself; thank you for pursuing your questions; thank you for showing yourself; thank you for offering your wonderful services; thank you for courageously accompanying me on my path, and above all, thank you for helping me slowly begin to trust!
K. E. – Germany
---


Dear Klaus, dear Akedah Team!




It's hard for me to believe that Klaus, as I know him - or knew him - is managing the new website.




In this presentation, I no longer recognize Klaus as a shaman, but more as a kind of magician. I no longer see the laughing, dancing, sensitive David who trusts in the sky in what is meant to happen! With this letter, I am including an old essay by Klaus, which beautifully captures some of what I mean with my statement.




To specifically address the website that I briefly viewed on my mobile phone. My first impression:




I find it flashy, loud, cluttered with too much information - less is often more! - and visually very "harsh". I miss the implementation of Klaus's extensive knowledge of color symbolism. I miss feeling and sensitivity in the design. I can see in the text that Elite Coaching seems to be aimed only at well-paying elite clients.




I find it unfortunate that Klaus no longer makes his vast knowledge available to ordinary people.




Sorry, this is my honest opinion.




With warm regards from Austria,
K. L. – Austria
---


Hi!





Here my thoughts😊



What is unique about Klaus' work? For me, two experiences from over thirty years:
The first is that there is always - always - a solution, no matter how big the problem may be. The second? That your life changes instantly - positively and on every conceivable level. Immediately, from the first moment of a conversation with Klaus - and in a way that was hardly imaginable before.

I don´t know how many times he has saved me and my families lives in these 30 years.
K. A. – Denmark
---

I can only write to you now after the autumn break, as it is not possible from home. If it is still possible and you would like to include my thoughts or a part of them, I would be very honored.

I met Klaus over 30 years ago in his seminars and courses with horses.
From the very beginning, the encounters between Klaus and the horses captivated me. It was always a wonderfully unique and fascinating harmony between man and horse, a harmony that was difficult to put into words. There was never any hesitation, only a clear and precise knowledge of what should happen next. There was a flow of energy and being that could not have been any different, and I was able to let myself be carried and taken along by it. These captivating experiences with the horses, which were so profound for me, continue in Klaus's work with people. In small groups and individual coaching sessions, I have always had the experience that he sees me clearly, even before I am clear about the things that concern me. This can, of course, be challenging to accept but is also very liberating for me. I then know exactly where I stand. The advice I have received and implemented has always brought me positive results. I have never experienced this level of certainty about 'what should be' from anyone else.

Perhaps the addition I am writing now is somewhat peculiar.
It is a comparison, and comparisons are known to have their limitations. However, it often comes to mind when I think of Klaus. I think of Mozart, not in comparing the two individuals but in comparing their creations. For me, the encounter between Klaus and the horses (and also for me as a human being) is as harmonious in every nuance as every note in Mozart's music.

Once again, I express my heartfelt thanks for everything I have received. 
B. E. – Germany
---


Here are some of my thoughts. You know, I have so much to say, but it's difficult to express them in writing, I am more of a talker than a writer. 

What would you like others to know about KFH? What sets KFH apart in your eyes?



• The transformational power is there if one is open and receptive.




• There is a closeness one gains to life and to an authentic way of living.




• The connection with Klaus and everyone on the farm is genuine, welcoming, and warm.




• The way to learn, see, and feel things unfolds in a very simple and natural way.




• In my understanding, Klaus sees the person and the problem areas very clearly. He individually teaches things that, at first, may seem almost too simple. However, when you apply them to your everyday life, they become fundamental and life-changing.
L. I. – Finland


I feel honored to be one of those, who may tell their story about finding solutions in asking Klaus. 

I met Klaus for the first time at a point in my life when I didn't know where to turn anymore. I had achieved some things (both professionally and personally) and tried many approaches. Nevertheless, I had the feeling that none of it had really moved me forward. My life overwhelmed me. Everything seemed so vague, even chaotic.

A friend drew my attention to Klaus. I had heard of him earlier when I was still involved with horses as a rider, of course. But by now, there was no room for horses in my life. I studied Klaus's website, hesitated, read his books, and couldn't shake one thought: "If there's anyone who can help me, it's Klaus!" This thought seemed somewhat crazy to me since I had nothing to do with horses anymore. Nevertheless, I went to see him, driven by the hope that he could give me a sense of purpose in my life.

What I found with Klaus was myself, piece by piece. This can certainly be painful, but I felt - and still feel - so safe with Klaus and his team that the painful part of the truth becomes easier to bear, and everything else is wonderful.

The unique thing about Klaus is that he looks beneath the surface, goes deeper than anyone I've met before, and in doing so, he captures the whole person, connecting those parts for us that we are no longer consciously aware of. In this way, he creates a unity that makes sense again.

The life around me continues to be chaotic, but I am confident in finding my way within it, and what is being given to me in the process is something we probably all long for: intensity.


In this sense, I would like to thank Klaus and his team once again for all the help, especially L., with whom I have spoken on the phone so many times. I am so glad to have found my way to you.
B. A. – Germany
---


I turned to Klaus to find someone who could help me meet and communicate with horses in a way that appealed to me.
What I encountered was a whole world, a way of life. To come close to the connection that Klaus has with the horses, I had to undergo a total transformation. I had to delve into my inner self and learn to handle my darkest corners and bring out the light. I learned a way to train my body in a strengthening and constructive way, to communicate with horses through body language. I learned to get closer to my inner self and express myself through creativity. I learned about what is good to eat and how it's good to eat. Klaus's courses have given me tools to heal myself in so many different ways, to strengthen myself, to change myself in order to see, receive, and help and guide others. Even though it felt like a big change for me, it was also clear that it was mostly about shedding the worse that had accumulated on the surface to reveal what is truly me. I can now meet my horses in the way they expect to be treated and in a way they can understand. It has also helped me to be a better mother, friend, colleague, teacher, and guide. It has also led me to explore and embrace my Sami heritage.

Klaus is the most honest and humble person I have met.
That makes me trust him completely and what he does. That's why I call him when I encounter problems I can't solve on my own.

Klaus's courses are truly a school for life.
I wish everyone could have the opportunity I have had. With the help of Klaus and his courses, I can wake up and openly face a new day with joy. I can walk tall and see and receive what I encounter, and I can go to sleep feeling proud and grateful. I'm also glad that I'm never done learning and being challenged every day.



This is what I could write for now. It's difficult to put into words something so meaningful and rich, but I hope it can be of some use and joy.
J. E. – Sweden
---


Thank you for your email and your interest in our thoughts about Klaus. It is much appreciated. 
I like the new website! 
There are many things that set Klaus apart, of course, so I tried to shorten this into a few sentences:

In my view, Klaus grasps a question or problem I present to him not only extremely quickly but also at a much wider and deeper level than any coach I have met.
With his experience, understanding, and direct connection with life, he has provided me with practical, empathetic, and peaceful solutions to any question I have posed. The result has always been empowering and successful, often exceeding what I thought was possible. His feedback can be quite direct, and I gained many rather unflattering insights about myself. However, embracing and working on those insights helped me step into a life of purpose, joy, and harmony.

I hope this reflects my deep respect and gratitude towards Klaus and the group. 

Kindest regards and very best wishes on a beautiful spring day in Australia to you, Klaus and the team!

A. N. – Australia
---


Meeting Klaus is a unique experience.
His authentic way of communicating and transmitting his message and teachings is in itself revealing and healing. His rich and vast life experience makes him a 'go-to' for insights and mentorship in many domains of life. Klaus knows, as no other, how to connect the visible with the invisible and bring up what is hidden to the surface. He seems to walk in different worlds and extracts messages in a natural way from these worlds, translating them into an understandable language for his attendees. The words and teachings are so powerful because he transmits untarnished knowledge and wisdom rather than merely talking. Klaus plants seeds in your unconsciousness, ready to be contemplated and grow into a realization at the right time. It goes without saying that Klaus is unmatched when dealing and interacting with horses. Klaus is the uncompromised, authentic mentor one must meet at least once in their life in order to distinguish the false from the real.



Best wishes to all of you, Be safe, content, prosperous, joyful...
S. T. – Belgium
---


I have read and viewed your new website with great interest, and I like the site and the offerings.



What Klaus could possibly consider adding, and where I believe he possesses outstanding expertise:
• An architecture and construction seminar - how to build a good, beautiful, and comfortable house.




• A seminar for, for example, teenagers - how to become a man, how to become a woman.




• A creative seminar, such as a painting course.




• Archery course.




• Hunting course.




• Firearms course with shooting training.




• Survival training - how to survive in nature and during times of crisis.





Warm regards and God's blessings,
O. T. – Germany
---


I am pleased to be able to write something about my thoughts regarding your inquiry. 

Klaus has been and continues to be the only one, in my opinion (as far as I may dare to say from my position), who communicates with horses in a way that serves them, allowing them to give themselves 100% to him, trust him, and rely on him! This is an absolute exception in the world!
I myself study and explore this communication so intensively that I intend to understand the holistic abilities necessary for Klaus's communication with horses.



What I have always wished for:




The opportunity to learn more from him. I have conducted many online seminars for people myself, and thousands have bought them, wishing for even more information that I cannot provide. I myself wished there was more material from Klaus for the world. It would have been so important. Books are one thing, and he has written such valuable ones, but the people, as I have observed them in my school for 15 years, need more help and guidance.



Klaus has so much power, and I wish he would use it even more for the world of horses and people. May it be in line with his intentions; otherwise, all the best continues. He is and remains the only one I would ask when it comes to horses.
S. A. – Germany
---


I will certainly find my way of expressing the coaching of Klaus brought into my life. Not a day passes without being back on the farm and I am still studying my notes and the ancient sources he so generously shared with me.

Fundamentals of Life
As a child, I knew the sun is always present. Knowing this kept me trusting and humble. Hard times came, loved ones died, and life got complicated, making me resilient, but in a self-righteous way and without authentic life anchors.

Until I got to visit Klaus. One of the few who still understands Life to its fullest. He stripped me of my dead-end mindset and introduced me to the principles of ancient transmissions. My consciousness, mindset, and management of emotions finally found their foundation. I now live with this free, creative force, in the moment and with a joyful heart. Yes, even when loved ones die and times seem rough. I now know how to experience this Life, how to co-create, and trust Destiny. The month with Klaus proved to be the definite turning point in my entire life.






M. A. – The Netherlands
---


It's actually quite simple!
We had the pleasure of meeting Klaus a few times and also had some phone conversations with him. He did it willingly, without taking any money from us, and generously gave us his time back then. P. and me have made it our mission since then to always speak highly of him, especially his work with horses here in Germany. We've had countless discussions, always with the aim of portraying him and his work in the right light and we've taken the wind out of the sails of all his opponents. We've been working with our horses for a long time using his method (perhaps the only ones in Germany who practice it so intensively) and have achieved great success. We have all of his books, videos, and recommend them to everyone while standing by him. This is our way of saying thank you for the time he gave us back then.

Yes! Even though we haven't managed to visit him again so far, we follow his development and his actions. He is a unique person to us and will remain so. Because we don't believe in coincidences in the sense of encounters because the "COINCIDENCE" is when it's due to COINCIDE to you or someone!

Regarding his current website, it personally seems too overloaded to us... and too expensive! Where he is heading is in the nature of things... world events, etc. Of course, we believe he would have been better off sticking with the horses. We see our and his passion, "Suffering until you Succeed," as a calling with horses. But Klaus has always been a restless and innovative spirit... and I think his current path in the "current direction" can give many people just as much. He has this ability without exception, and that is very admirable! And that's what distinguishes him. His intuitive "DEDICATION" to lead people to their DEDICATION. And even if it's just a conversation... yes, that's what sets him apart. That's his strength with his talents and gifts... Having him as a teacher/mentor would also be a dream for us... Many people should recognize and appreciate that!

We, P. and me, will continue working, researching, and developing our "Horse Work" project - MPL Learning with Horses... I am very close to him with archery, music production, and as a martial arts master, I have been training many people in my martial arts academy throughout Europe for over forty years. It brings me great joy!

We would love to visit him again, but unfortunately, his prices are now so high that we cannot afford to take this step, which is, of course, very unfortunate. It would be a great pleasure to see him again.



Best regards to Klaus, and thank you for everything!




A little addition!





It's the waves that prevent the seas from standing still.





The world out there is full of waves of ignorance, making it difficult to distinguish the good wave from a bad one. But they exist, the good waves. KFH has always been such a wave for us.





That's how we felt back then with him in Denmark, like a free wave where the soul is in harmony. When you see it, feel it, you recognize it, especially because you immediately feel a sense of well-being when you get close to it. They simply do you GOOD.





And with his current path with his newly aligned "Akedah Institute," those who have experienced this free wave in harmony, of new quality and uniqueness with him, find their living dream. Thank you, Klaus, for that!





For this reason alone, everyone should find their way to you to become a surfer ON THIS WAVE... It takes COURAGE, shedding the EGO, openness, sincerity, discipline, respect, and above all, passion and dedication. And a large dose of 'ENTHUSIASM,' but the people you want to reach with it will already find the right surfboard with you.





Best regards and continued best wishes to all of you and Klaus!
P. E. & K. L. – Germany


Dear Klaus,

I am writing to provide you with a brief update and a reflection on past times.
I have seen your new website and the new posts on social media and it all looks great and very interesting to me. I would very much like to reengage since it has been some years since I attended anything with you.

Regarding those past times, I would like to express how valuable they all were.
I initially attended a weekend course one year, followed by a week-long course the following year, and another week-long course the year after that. I also participated in all four of your online courses and, of course, I have read all the books.

The first time I came to the weekend course,
I had been nervous about flying for a few years and hadn't traveled alone for about 20 years. Nevertheless, I managed to get myself and my son to London so he could stay with his grandparents. I boarded a plane, arrived in Copenhagen, met someone completely new to travel the rest of the way with (which still involved two trains, a bus, and a boat). I stayed in a cottage with people I didn't know who were also on the course. I mention this because I think it shows how I had already felt a positive effect from learning from you. It wasn't just that I made sure I got there; it was that I felt I had the extra capabilities and confidence to organize it and do it. At this time, this was solely from reading books and watching YouTube videos. I knew there was more worth discovering.

The courses I attended were wonderful.
The first weekend was an introductory one, and then I came for Leadership & Management and the Riding course over a number of years. Each time, it was great to listen and learn from you, to watch you with the horses, and to witness the difference you made with them and their responses. For example, I observed with one horse that everything changed from your first step toward it. Another time, with the grey stallion, I saw how that horse needed time to prepare for riding, and you made sure the right time was allocated for it. I also saw you achieve this same positive dynamic with people, with individuals. Sometimes it was like watching a new plant flowering and becoming bright and beautiful with a new kind of confidence.

I can provide a personal example of how something changed for me from attending your courses,
particularly my recent experience of acting and performing on stage. I didn't even know that I had been holding onto unnecessary shyness and a habit of staying in the shadows. I just thought that was me and that was the way it was. However, during one of the exercises in a class during the riding course, this whole unnecessary side of me seemed to fall away. This happened 'apparently' very simply. I would never have imagined being on stage before, and yet now it is a big and beneficial part of my life.

I have been struggling in recent years with managing a lot of events in my life that are going on around me.
I realize as I type this that the end of the previous sentence shows up the big part of the problem. Obviously, there is my age to consider, and as we get older, more and more stuff has happened. I think the last time when I was visiting this problem that I have been experiencing was already starting. So, going back to one of your metaphors, I have found that my own personal toolbox for dealing with 'whatever is coming through the door' has become depleted. I am working on this. I remember especially how much learning from you added to my capabilities and my strength. I hold a very special place in my heart for that and know I will connect and be able to draw upon it again in the future.

I also have a very recent story regarding my horse and me (that being where my journey with you began).
She has just survived an illness this weekend that I felt was going to be her last. She is 27, and I have had her for 20 years. The danger of the illness tuned us in again. We had some late-night moonlit walks through the woods that were wonderful. What started as a means of encouraging her to eat and move a bit more became a shared time. She chose to go that way, and we had a good time that benefited us both. A walk. It reminded me very much of some of our past times when I had learned to tune in that way from you. It was so beneficial. Back then, you would have been able to see the weight fall off both of our shoulders, mine and my horse's. That lack of extra weight helped me in lots of other ways too.

I often think of all the times I spent visiting and listening and learning. It's definitely something I have missed in recent years. 
J. E. – UK