"For me, as for our ancestors, the horse represents life itself. If you link the being of the horse with fate, then there is no need for training, compulsion or anger – then the horse follows the origin in you. Just like life itself also connects with the origin.

That's why I don't follow any method but an always new path – the timeless change on the path of life-mastery.

Horses are often just a symbolical part of my reality as a consultant – and a kind of proof.
That is why I am not a horseman in the conventional sense.

I am rather the opposite.

I am more of a bridge builder between times and worlds towards authentic and successful forms of existence.
Every authentic person is carried by the symbolism of the horses, by their mythological meaning.

Fate gave me the gift of documenting

this reality through my way of being with a real horse . A gift, that I never had to train or practice. It was there as others open their mouth and sing magically."

KFH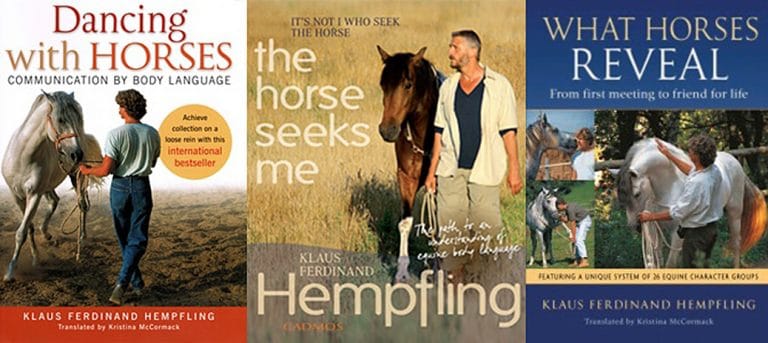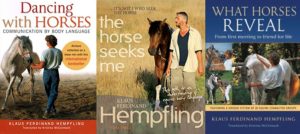 KFH is the author of various bestsellers,
translated into more than 20 languages
Special Task Consulting

, Coaching, Management, Life-Teaching &

Troubleshooting

.
Your immediate progress and success in business, social issues and on private level.
Welcome to our website
It is our pleasure to connect you with
Klaus Ferdinand Hempfling,
graduate engineer and communication scientist, life-coach,  management-consultant, author of different  international bestsellers and one of the most renowned horse-experts of the world with his focus on nonverbal and non-violent communication based on personal development.
Individual advice in these difficult times is also still possible by phone and online
Some optional topics:
Does life go on? Yes, but different. But how for me personally and for my family?
How do I deal with the circumstances personally and in my specific situation – in private life, professionally and economically?
How can I best secure myself in my personal situation now, how can I adapt best and in which way can I continue to plan and oversee my future?
How can I best assess, secure and possibly reorganize my financial situation?


What do we learn from the corona situation worldwide?
– The structure of the world and its interdependencies are extremely fragile and one spark is enough to create a conflagration.
– Life-conditions and relationships can change completely from one moment to the next, and drastic and comprehensive changes take place in very short periods of time.
– Changes of this kind in our time irrevocably create new life situations and there is no easy return to those conditions before. The world and life in it have changed radically forever. Everyone should prepare for this.
– The focus on your own inner, social, economic, psychological and physical condition should be even further centred. It was and is naive to simply look away and hope that what is to be expected does not materialize. The big change, long before to be expected, has occurred – in whatever shape. It is naive and very risky not to have such scenarios in one's own personal field of vision and to be prepared for them – of course in a rational, adult and wise manner.
– It is risky and naive to imagine that general life could be as it was before the break, before the crisis. And it is dangerous and naive to believe that this break will be the last in the near future. In my previous information-sheets, I warned of exactly these situations and pointed out how crucial it is to prepare individually, calm and in a realistic and smart manner. Of course, far away from the often common, naive, superficial and stupid forms that are offered to the public everywhere. This is in reality about very factual and very well-founded considerations and individual structural processes that leave you in your life even when events like these occur. It is about a very rational, anchored, intelligent and extremely subject-related knowledge and individual action.
– This time shows how unhelpful it is to position yourself in one direction or another. It is about calmly understanding the zeitgeist, the processes, the history, the motives, the almost natural dynamics, to make greater efforts to focus on what is essential to one's own existence and the existence of those for whom one is directly responsible. It is about protecting your own dignity, your own authentic experience at all times, even in times like these.
Thank you for your attention
Klaus Ferdinand Hempfling
Living and surviving in difficult times – in one of the safest countries in the world?
Would you like to live in one of the safest countries in the world (Denmark) on a farm specially selected and designed for your needs?
With an "all around life concept" based on selected and important security-life standards – custom-made considering all conceivable concepts regarding your life-reality and visions?
Then talk to us.
Some thoughts on how to deal with the current situation
General times of crisis are always times of reflection. And times to review yourself and your life and, if necessary, rearrange it. These are important times for new insights, i.e. action. One should ask oneself whether one was adequately equipped, prepared for the 'expected'. And times of crisis are times when you are preparing for the next crisis. Prepare yourself for what may come.
First you should turn to your own strength analytically and impartially: am I physically, mentally and socially in optimal balance? If not, now is the time to start taking appropriate measures of inner and outer balance in order to consistently adhere to it from now on. Because only the mentally, physically and socially balanced person can survive in easy and difficult times without bigger damage.
Work on past mistakes now. And work at least in your thoughts on the necessary preparations and safeguards for the next crisis, learning creatively from this.
If you are in trouble now, of course concentrate on getting through this crisis day by day calmly and prudently. But in addition to mental and physical strength diversification and flexibility are important. Can you adapt quickly in your life and is it generally based on different and safe pillars? Stay with yourself, don't blame others or the world or a virus, but face the challenge with your own, flexible, prudent, forward-looking action and analysis.
Be creative, give yourself intellectual space for new ways of living, dealing with family and friends. Be like the tree that gently bends in the wind, which does not break, but dances with the movements of the environment, in the end using it for ever greater inner strength and vitality.
Go to the inner work, organize, collect thoughts and ideas, act, live, decide. You are always the master of your fate – also and especially in times like now.
Feel, think, act and live

coherent

.
Recognise
negative and violent

patterns, which are disturbing and burden your positive being in consequence.
Connect your intuition, your visions and life goals with your genuine life-tracks, to achieve a lasting and secure global success.
---
Thanks for more than 6 million views for this clip:
Thanks for more than 5 million views for this clip:
New clips

:  Strength from Within – Prepare for Life and Horses
How to reach your life-goals – Exemplified by ways of clay shooting
Find your authentic and harmonious lifestyle, your very own life-tasks.



Recognize and realize your own talents.
Increase your inner peace, strength, balance and leadership-skills.
Learn how to best move and nourish yourself in the healthiest and most effective way, how to best maintain your interpersonal relationships.


If time, interest and the financial background are allowing it, you may take the royal path of initiation and personal development through a KFH long-term education in connection with horses.
"His wisdom and expertise with horses is directly rooted to the same wisdom that allows any leader to be effective."
More than 50% of Klaus' clients are professional coaches and consultants themselves. This reflection explains some reasons:


"As a senior consultant and executive coach for many years, the one thing I know is that in order for me to be helpful to the CEO's, senior teams, and organizations with which I work, I need to live on the very edge of my perception, insight, and skill set. The more refined and effective I am, the more crucial it is to have a coach of my own who can assist me when I find myself stuck or unable to see clearly how to assist my clients.  Although I originally found Klaus as a person to help me with my horses, it only took me about 24 hours to realize that his wisdom and expertise with horses was directly rooted to the same wisdom that allows any leader to be effective.  For the last 5 years, he has been the one person I know I can turn to when I need clear, very accurate and effective advice - and virtually all my calls to him are relative to my business needs as I have become very good at working with my horses.  And he is very expensive and worth every penny.
P." USA
Learn from and let yourself be helped by a globally successful man
who proved it all also through his unique togetherness with those beings who are by their authentic nature called to examine people: the horses.
What is required, achievable and learnable?
Solid qualities of character and uprightness, inner balance, peace and strength, reliability, authentic communication and efficiency, coherence, a fine sense for time, space, general energy and the needs of the moment, – simply a life in the here and now, that brings the moment to bloom and one's entire life to general prosperity .
Here, for further orientation, just a perception of a journalist, after attending a live-performance with Klaus;


HORSES FOR LIFE – Magazine:
"Klaus Ferdinand Hempfling is not a «horsewhisperer», he does not appreciate roundpens, playing games, "sending away" or the so-called "join-up". If anyone has the need to put a label on this man and what he does, then they'll just have to go watch (even better, participate) and decide that for themselves. Personally, I have never seen a natural horseman like him.
Having to fend for himself as an abandoned child at a very young age meant survival by any means. Later in life he researched mythology and lectured on it. In mythology, the horse is present everywhere and eventually he decided to go and interact with this animal face to face. This led to his period of living in the Spanish Pyrenees studying herds of wild horses.
He has purely evolved his natural capacities of instinct and intuition to see and feel the truth of what is happening around him.
You will leave his workshops with an incredible amount of food for thought and you will never approach horses in quite the same way again." HORSES FOR LIFE (The entire article)

Klaus once said about himself and his work:
"In the eyes of our ancestors, certain qualities of life are not divisible,
for example: happiness, trust, life-success, authenticity, clarity, joy, connectedness, life-purpose and meaning. All this should always cover one's entire person and life. Only against this background, my work as coach and consultant and my being with horses can be fully recognised.
Since decades I work as life-coach and management-consultant
also and beneficially against my broad background of authentic experience with horses and their true nature.
But I'm not a horseman, not a rider in the common sense,
though I first became known concerning my special being with and teaching about horses, based on inner strength, body-language, immediate bonding and 100% non-violence.
Basically, the questions of authentic human culture
have driven me during my life and finally, historically and energetically motivated, also to the horses. And the peaceful and highly sensitive contact with horses then only brought me ever closer to the fundamental questions of human beings and their way of life.
In my daily practice, sometimes the emphasis is more on the teaching of being authentically with horses
and sometimes more or exclusively on the general understanding of how to live as a grounded and adult person, who clearly has his genuine purpose and life-goal in mind – concerning personal, societal or business issues." KFH


How does Klaus see and experience
his relation to life and horses and his general work as coach and consultant?
Here below you may find further short information about Klaus's work and being, accompanied by telling images and clips.
Please enjoy.
1. The pioneer, the explorer, who lives and shares the wisdom of ancient cultures, nature and fate
Klaus is a role model worldwide in the horse-world, regarding a novel, revolutionary being with horses, a revival and further development of ancient and forgotten principles which he successfully transfers to all questions of life as a worldwide acting coach and consultant.
The way of dealing with horses by Klaus, also as a symbol for life in general, shows unique innovations and advancements. The following clip shows some of them ( 1.300.000 views)
---
2. Personal strength, awareness and identification
The heart of Klaus' work is focused towards the mental, social and physical presence and development of the human being – to enhance his general personal awareness and identification.
Also his worldwide successes as a book author, in association with his unique horse experiences and communications serve him as a basic background for his general teaching and coaching, as well as his decades-long studies of ancient traditions of originally living tribes and cultures.
The astonishing handling of stallions
---
3. "Replace the word horse with life."
Klaus says: "Bring just a horse to me, that rejects everything and fight with everybody, and I will show and prove to you in minutes, that it is not the horse, but that it is your way of action and life, that makes the horse appear the way it does. And now replace the word horse with life, then you may imagine, what I do as a coach and consultant and why I am doing it."


Instant behavior correction
---
4. The New Dimension
---
5. The power of inner awareness and charisma
---
6. Success through inner and outer balance
---
7. In focus: the holistic success, related to all decisive aspects of life
---
8. The book that went around the world
---
9. Trust, harmony and connection – happy, strong and expressive appearance of the free horse
---
10. A true school of life
---
11. Immediate mutual and deep understanding – Immediate behavior correction
---
12. True collection and balance on a loose rein
---
13. Unique feature: collecting and strengthening horses in plain freedom
---
14. Generally important: The long-term and responsible foundation
---
15. The very highest form of personal development, self-mastery and initiation
---

Concerning our offers and more information, please choose from the sections in the menu above.

Do you have questions?
Our info-service-team will be pleased to advice you quickly and just to the point regarding your individual situation and questions: We do speak 
English, Spanish, German, Dutch and Danish.
Email: info@akedah-international.com

Tel:
0045 – 61 34 79 49  or
0045 – 40 16 14 76
Important if you are writing us:

 We will answer all mails within two days. Please call us, if you have not received an answer, then there is a mistake in our rural server-system, thanks for your understanding.
---
---